British Society Haematology Essay Prize
Medical undergraduate essay competition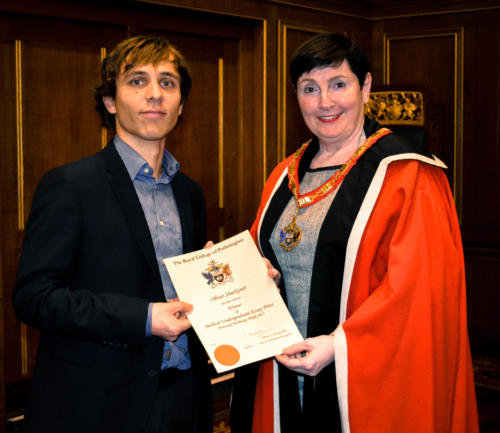 The medical undergraduate essay prize is a great opportunity for students to demonstrate their enthusiasm about pathology, particularly for those who are aspiring pathologists.
Our annual competition asks undergraduates to think broadly about a hot topic in pathology, and use their creativity and originality alongside facts and figures in no more than 1,000 words.
2017's winner
The theme for this year's essay competition on the role of IT in pathology - congratulations to winner Oliver Shutkever (Ollie), 23, sixth-year medical student.
We'd also like to congratulate this year's runner up, Kevin Teo, from the University of Cambridge. Kevin was extremely pleased with the result, commenting that "writing the essay has been a very educational endeavour after being inspired by the speakers in RCPath's summer school in August!"
You can read both of their essays below.
Need inspiration?
Considering writing something for our competition? Explore our site and discover the myriad of topics you could take on. Keep up to date on our Facebook and Twitter page for information on next year's competition.
The role of IT in pathology: the 2017 entries that won
The British Society for the History of Science is delighted to invite submissions for the Singer Prize 2018. The prize, of up to £300, is awarded every two years to the writer of an unpublished essay, based on original research into any aspect of the history of science, technology or medicine.
The prize is intended for younger scholars or recent entrants into the profession. Candidates must be registered for a postgraduate degree or have been awarded such in the two years prior to the closing date. All nationalities are welcome.
Essays must not exceed 8,000 words and should be submitted in English. They should adhere to BJHS guidance to authors in all respects.
The prize may be awarded to the writer of one outstanding essay, or may be awarded to two or more entrants. Publication in the British Journal for the History of Science will be at the discretion of the Editor. Essays under consideration elsewhere or in press are not eligible.
The deadline for submissions is 30 April 2018. Submissions should be emailed to the BSHS Executive Secretary, Lucy Santos, [email protected] with 'Singer entry' and the author surname in the subject line.
Previous Winners of the Singer Prize
2016: The 2016 Singer Prize was awarded to Kit Heintzman (Harvard University) for "A cabinet of the ordinary:  Revolutionizing veterinary education, 1766-1795".
2014: The 2014 Singer Prize was awarded jointly to Jenny Bulstrode (Cambridge) for "The Industrial Archaeology of Deep Time" and Dr Sarah Swenson (Oxford) for "'Morals can not be drawn from facts but guidance may be': The early life of W.D. Hamilton's theory of inclusive fitness."Michael Barany (Princeton) was given a Special Commendation for "Integration by Parts: Wordplay, Metaphor, and the Creation of an Intercontinental Mathematical Theory in the Early Cold War."
2012: The 2012 BSHS Singer Prize was awarded to Iain Watts (Princeton University) for his essay '"We want no authors": William Nicholson and the contested role of the scientific journal in Britain, 1797-1813.  The prize was given to Iain in person at the ICHSTM congress in Manchester in July 2013.
2010: The 2010 BSHS Singer Prize was awarded to Don Leggett (University of Kent) for his essay entitled "Replication and replacing: comparative contexts of naval science, 1868-1903".  For further details, see here.
2008: The 2008 BSHS Singer Prize was awarded to Ms Melissa Smith (CHSTM, University of Manchester) for her essay entitled "Architects of Armageddon: Scientific advisers and civil defence in Britain, 1945-68". The Prize was presented at the Society's Annual Conference at the University of Leicester in July 2009.
2006: In the absence of a clearly outstanding essay, the Singer Prize was not awarded in this year. Please note that the decision not to award the Prize rests entirely with the judges, and is final.
2004: Claire Brock (now at the University of Leicester) for her essay "The Public Worth of Mary Somerville." Special Commendations were awarded to Néstor Herran (Universitat Autònoma de Barcelona), for "Spreading Nucleonics: the Isotope School at the Atomic Energy Research Establishment, 1951-1967" and Prakash Kumar (Yale University) for "Improving Indigo: the Dynamics of Science at the Colonial and Imperial Laboratories, 1898-1913."
2002: Simone Turchetti, University of Manchester, 'Atomic secrets and government lies: nuclear science, politics and security in the Pontecorvo case'. Special commendations: Christopher Chilvers, University of Oxford, 'The dilemmas of seditious men: the Crowther-Hessen correspondence in the 1930s'; Rebekah Higgitt, Imperial College London, '"Newton dispossede!": the British response to the Pascal forgeries of 1867'
2000: James Sumner, University of Leeds, 'John Richardson, saccharometry and the pounds-per-barrel extract: the construction of a quantity'
1998: Gregory Radick, University of Cambridge, 'Morgan's Canon, Garnerís Phonograph, and the Evolutionary Origins of Language and Reason'
1996: Frances Dawbarn, University of Lancaster, 'Patronage and Power: the College of Physicians and the Jacobean court'
1994: Joint Award.David Wright, 'John Fryer and the Shanghai Polytechnic: making space for science in nineteenth-century China'; Paul Lucier, Rensselaer Polytechnic Institute, 'Court and Controversy: patenting science in the nineteenth century'
1992: Jon Agar, University of Kent at Canterbury, 'Making a Meal of a Big Dish: the construction of the Jodrell Bank Mark 1 radio telescope as a stable edifice, 1946-57'
1990: Joint Award.Jon Topham, University of Cambridge, 'Science and Popular Education in the 1830s: the role of the Bridgewater Treatises'; Mark Harrison, Wellcome Institute for the History of Medicine, London, 'Tropical Medicine in Nineteenth-Century India'
1988: Joint Award.Graeme Gooday, University of Kent; Michael Ben-Chaim, University of Cambridge
1986: First Prize: Michael Shortland; Second PrizeAndrew Warwick; Commendation: Steve Sturdy
1984: No Award
1982: Joint Award.Simon Schaffer; Mari Williams
1980: M Ridley